Presentation of the electric car of the Racing Team of the Poznan University of Technology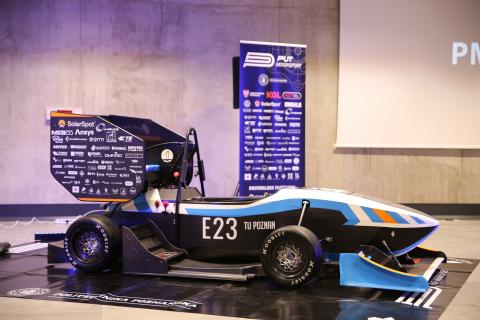 It is the seventh construction of PUT Motorsport and the second is electric. It is a Formula Student vehicle. The Formula Student is an engineering competition in which the best technical universities from around the world compete. According to the creators of the structure, it is the most technologically advanced car in the entire history of KN. "This year we decided to use a supporting structure based on a monocoque made in prepreg technology, straight from F1. It is characterized by a very low unladen weight and high torsional rigidity" admits Wiktor Jankowski, PUT Motorsport Team Leader.
Knowledge acquired in previous years was the starting point for the team. The safety and ergonomics of the driver were of great importance. The aerodynamic package has also been completely redesigned. The car is powered by an electric motor, thanks to which it was able to accelerate it from zero to one hundred kilometres per hour in 2.9 seconds.
The proprietary suspension system has been designed from a blank sheet. Changing the tire to a lower profile significantly reduced the unsprung mass. Students created a kinematic model, thanks to which they are able to study the behaviour of a vehicle in various track situations.